Document Destruction
We shred your documents and sensitive data.
The SPOT offers Lock Tight document destruction and disposal services for restricted and sensitive documents for the University of Central Florida. Lock Tight provides either schedule based destruction or one time purge disposal service.
Trusted Brand
The SPOT will provide your department with locked secured containers to hold your sensitive material for destruction. The material will be collected and destroyed by mobile technicians.
Recycle Method
Collected paper material will be destroyed and recycled. All invoicing and scheduling can be done through The SPOT via IDI. At the end of the month, we provide your department with a Certificate of Destruction attesting that your documents have been destroyed and will be recycled within the U.S.
Additional Information on Containers and Pricing Below
*UPDATE*
Media destruction:
Hard drives – $16.00 each
CD, disc tapes, etc. $1.00/lb
One Time Purge – *$100.00 per box
*A one time purge is a delivery of a 65 gal bin, that will be retrieved one week later. A charge of $100.00 will be applied on removal of the bin.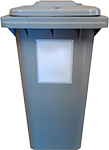 65 Gallon Container
Holds approximately 230 lbs
*4 Week Cycle: $70 per pick-up
*8 Week Cycle: $90 per pick-up
*Price updated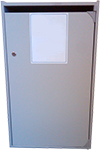 36 Inch Console
*4 Week Cycle: $50 per pick-up
*8 Week Cycle: $70 per pick-up
*Price updated

Standard File Box
*$10.00 per box
*Price updated
Frequently Asked Questions